White River Family Fishing Getaway
White River Family Fishing Getaway
Michelle from South Carolina came up for a White River Family Fishing Getaway and I think Tina and I enjoyed it as much as they did. I do have to admit that they were troopers. To begin their White River Family Fishing Getaway they stopped for a night on the Buffalo River. The water wasn't high enough to canoe, but they camped out there anyway. It was 100 degrees and they were in tents! Oh to be young again. They said they had a great time but were glad to be here at the lodge for two nights. The Buffalo River is the National Scenic river from its start to its confluence with the White River. A trip to the Buffalo is just one of the many side trips a family can enjoy here at The White River Inn.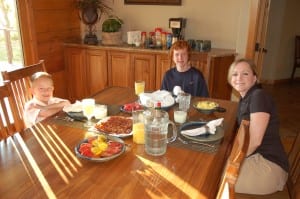 The first night we got acquainted which was very easy with the gregarious seven year old Samuel. He was a ball of energy and loved bugs. We spent the evening talking about his "bazaar bug collection". These were his words. In the morning we all had a big breakfast and then we headed down to begin the "official" White River Family Fishing Getaway". The trout did not disappoint. Larry had them catching fish in a few moments and I know he had his hands full. I believe he said ,"I am a firm believer in live well entertainment". He had a live well full of minnows and sculpins and Sam was the "bait getter." They caught fifty or sixty trout that day and Michelle caught a very nice brown. Actually they caught several browns and it was a great trip for all. Tristin had a great showing as well with some very nice fish.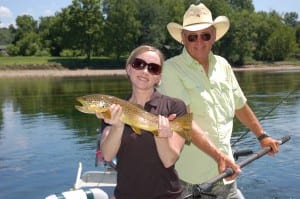 With kids here at The White River Inn, we always want to make sure their White River Family Fishing Getaway includes something other than just great trout fishing. When I asked if a tractor ride or some four wheeler riding sounded interesting Sam was gung-ho. We drove down to the river on the four wheeler (his first ride ever) and waded after some crawdads.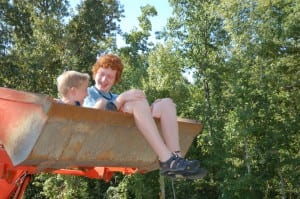 When I fired up the tractor Tristin and Sam both were on board in the tractor bucket and we toured the 31 acres looking at "stuff". It was hard to say goodbye after two days of fun. They were headed to Greers Ferry Lake to get in one more night of camping in 100 degree heat before heading back to South Carolina. What can I say, kids just love the heat and rolling around in a tent.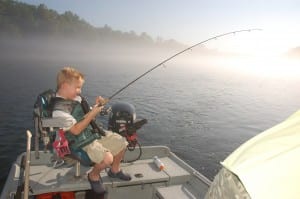 If a White River family fishing getaway sounds like something you might like to "experience", give me a call and we can help you plan a great family trip including caving, canoeing, and of course world class trout fishing. On all trout fishing trips, you are guaranteed to catch fish or you don't pay for the fishing, the trout fishing is just that good. Give us a call at 870-430-2233 and we'll talk fishing!