White River, Grasshoppers and Browns
White River, Grasshoppers and Browns
July is traditionally the start of our very best dry fly fishing here on The White River. White River, Grasshoppers, and Browns are usually the words being whispered this time of year in fly shops and fly fishing circles all over the country. This year is no exception, except the volume on the whispers is turned way way up! And for good reason!
Tina and I were fortunate enough to have a group of 6 gentlemen dubbed "The Montana Five" stay with us here last week for 6 nights. They have been fly fishing together for over twenty years all over the world. Covering all of the famous and some infamous places you can pursue trout on a fly. They booked a year out and wanted to know the best time to fish with us, preferably with some dry fly action on the to-do list. I didn't have to think very long about dates, and we nailed down mid-July. They prepared, and I prayed for good conditions. For once the "Fish Gods" answered with a great big old YES!! The weather was warm to hot, the flows were perfect, and the hoppers fell in the water and the Browns gobbled them up like candy. The week was what we all dream of as trout fishermen.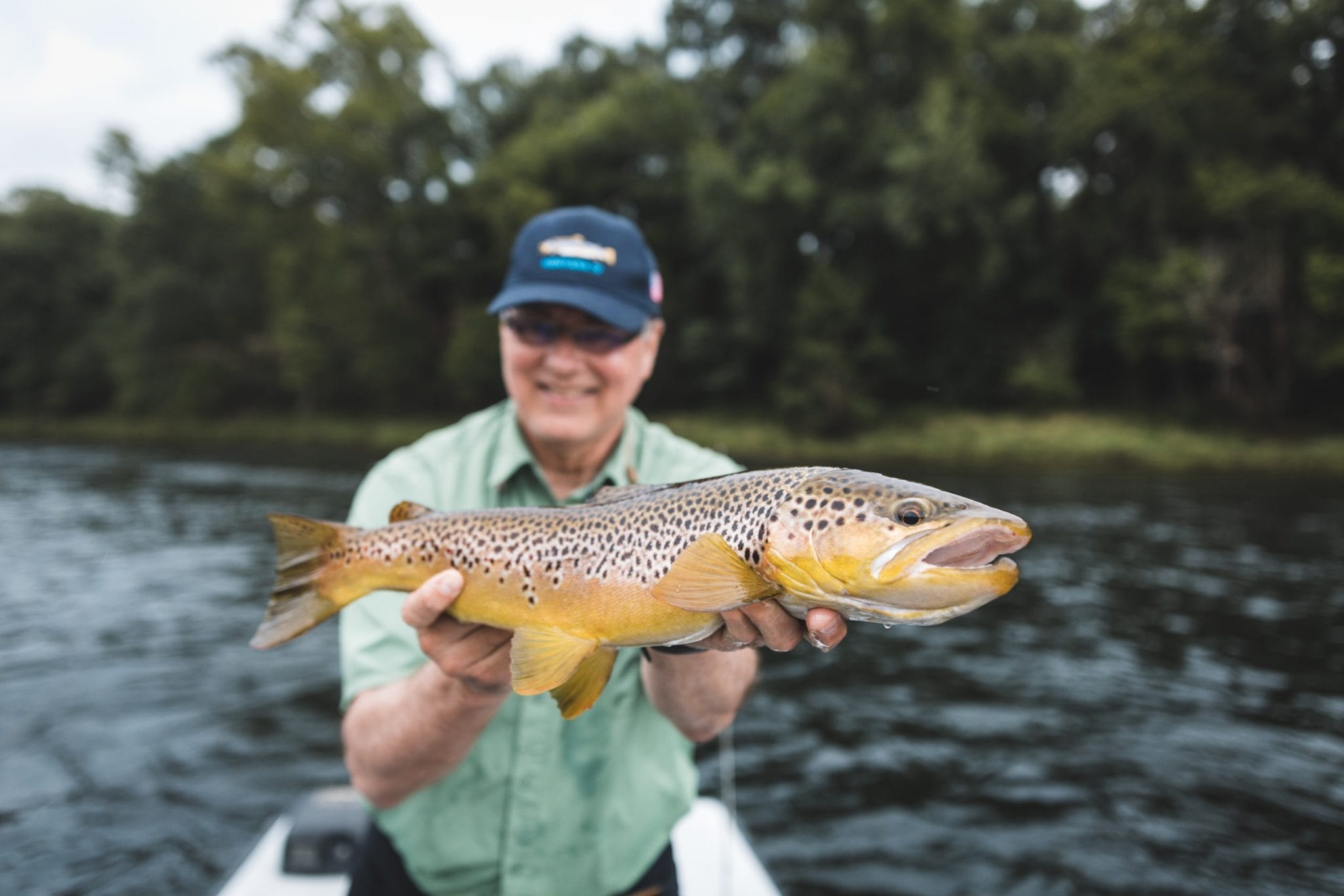 Guy, our Australian guest said, "this is definitely my best trip with the Montana Five." This is saying a lot, as he owns his own fly fishing lodge in New Zealand on a well-known trout river, and has fished all over the world, literally. He traveled 13,000 miles just for this trip. The other guys concurred as each day passed with more and more feisty wild brown trout. As the week went by, our guides fished some of their favorite spots and some new ones as well. These guides worked their tails off to keep these guys tight to fish and they did a great job. We are so blessed to have a great pool of guides to draw from. Without their knowledge and enthusiasm to take great care of our guests, and be constantly aware of flows and changing conditions we couldn't do what we do. Thanks, guys!!
The guys switched partners daily so everybody got to fish together at least one day. This boat shuffling went off without a hitch, and everybody enjoyed themselves. The hot flies were both dry grasshopper patterns (a secret color) and a bead head nymph (large) that looks like a drowned grasshopper. Both were equally effective on browns that averaged 18 to 19 inches. Many were caught in the 21 and 22-inch range, and the tape was stretched just past 24 inches twice during the week. It truly was some of the best Brown Trout fishing we have had. Each boat averaged 20 to 30 browns a day!! This is why The White River is consistently rated The Best Brown Trout fishery in the World!
And, the GREAT news is, the fishing is really just ramping up. August and September promise to be great fishing with the lake levels being below pool and a hot summer is predicted. Hot weather,equals high generation,and continued great hopper action. The White River, grasshoppers, and Browns just seem to go together like apple pie and ice cream.
If you want to experience some of the best hopper action there is this summer, or if you just want to talk "Fishin" give us a call here The White River Inn.
Tight lines to ya,
Moose