Fishing the White River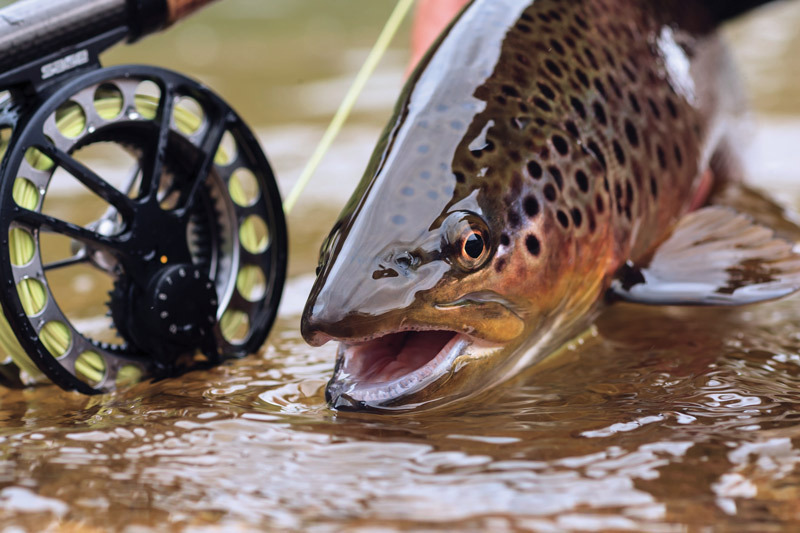 Fishing the White River
The White River in Arkansas is a well known trout stream across the globe. Arkansans feel lucky to have such a fishery in their backyard. Visitors flock to it for the experience of catching trophy trout. While fishing with spinning rods from johnboats has always been popular, fly anglers are increasing in numbers.
The tail waters of the famed White below Bull Shoals Dam are known for ranges in the 30-plus-pound for browns and 19-pound rainbows. The
trout fishing
industry plays a vital role in Arkansas outdoor recreation and travel. The season never closes. In fact, some of the largest catches are made during the cooler seasons, although fishing the spawn is discouraged. Regulations and catch-and-release districts are outlined in information available at sporting goods stores, marinas and wherever licenses/permits are sold.
Buy your trout fishing license online at
www.agfc.com
.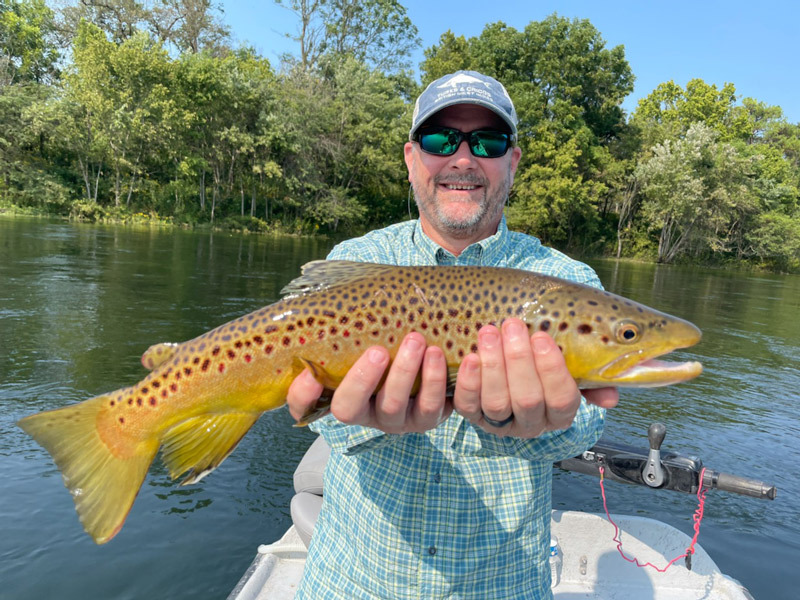 Trout Fishing in Arkansas
The White River System in Arkansas is famous for the world record brown trout that inhabit its waters. The huge double-digit browns are seen and caught regularly enough to make the White River one of the country's most prolific trout fisheries and a fly-fishing destination hot spot.
However it is not only the size, but also the variety of trout species that lure anglers from around the world to our fertile waters. The White River is one of the few spots in the world where you "can stand in one spot" and catch the coveted grand slam! A brook, a rainbow, a brown, and a cutthroat can all be caught right here on the White River!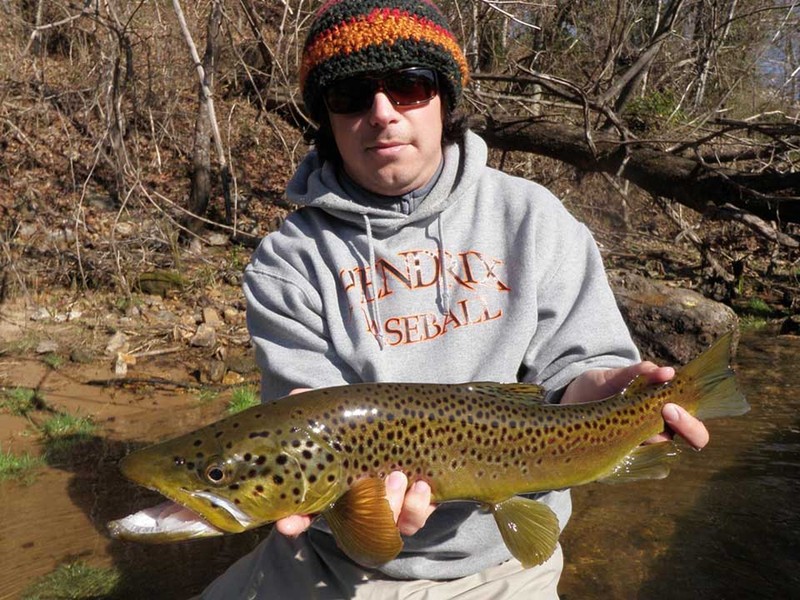 Fishing 365 Days a Year
Along with the excellent fishing for all four species of trout, you can literally fish 365 days a year as there are no closed seasons and no frozen or "blown out" rivers. As a tail water, the White River is truly a fly-fisherman's dream with different types of water, from long deep pools to shallow, oxygen, and food rich riffles. The White River lends itself to nymph fishing all year long due to a year-round midge population, as well as millions of sowbugs and scuds. Throwing streamers is also effective as the White has a huge Sculpin population as well as numerous species of minnows and crawfish. From March through October there are certainly enough caddis and mayfly hatches to keep the dry fly purists very busy. To sum the White River up in two words — "Trout Smorgasbord" — comes to mind!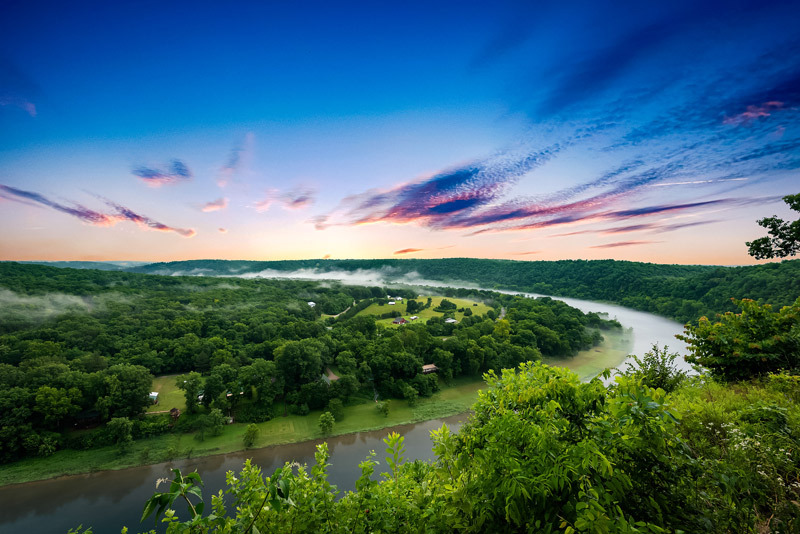 100 Miles of Fishing
Our fishery starts below Bull Shoals Dam and continues 100 miles or so downstream. The North Fork River injects freshly cooled and oxygenated water into the White about 35 or 40 miles downstream enabling trout to survive well below these great dams. The North Fork is a short but fertile four mile river that is a wonderful fishery as well. Our waters stay at a constant 52 degrees almost year-round due to river flows out of the power generating dams.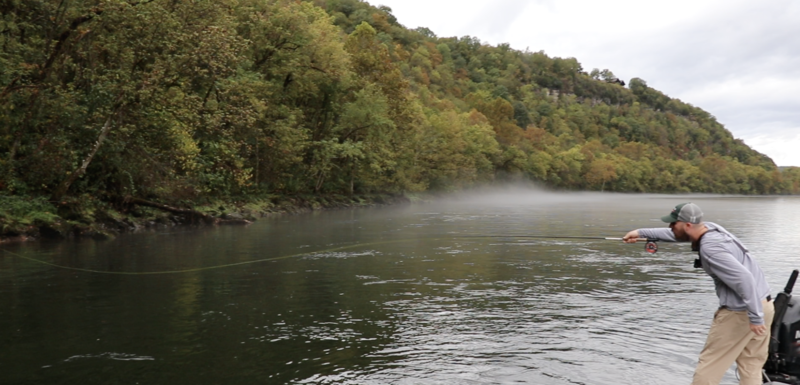 Fishing Guides
Our expert and enthusiastic fishing guides are included with the price of your stay at The White River Inn. A full day of spin or fly fishing starts with a country-style breakfast prepared by our hosts. Afterward, our fishing guides will pick you up at the lodge, or you will make a short 10-minute ride to the launch area if you are spin fishing. Your guide will have a full stock of Orvis fly rods and reels, and the boat will be fully equipped with the flies, lines, leaders, and tippets that you'll need. Feel free to bring your favorite rod, as the guides are more than happy to accommodate.
All the guides are excellent teachers, and they know the river better than anyone else. We are dedicated to giving you personalized service and an unforgettable trip. From first-time fly fishers (including kids) to seasoned anglers, everyone will be well taken care of with safety and a great experience being our foremost goal. A packed lunch and beverages are also included and served on the river. All reservations are made by giving us a call at 870-430-2233. We look forward to hearing from you!