Arkansas' Best Professional Staff Of Trout Fishing Guides On The White River
Arkansas' Best Professional Staff Of Trout Fishing Guides On The White River
Many people think we only do full service all inclusive trips because we are a luxury lodge. We certainly strive to do a great job at providing full service, but not everybody wants all the bells and whistles. However, every fisherman who comes does want to have a great time and catch lots of trout. A few can do this on their own, but the White River is a big river, most need a guide. This is why we utilize Arkansas' best professional staff of trout fishing guides on the White River, period. We are in the guiding and outfitting business. Although luxury full service all inclusive trips are our specialty here at The White River Inn, you can still have our guides taking care of you and your family on the river. We are in the guide business, and we do it right! Actually we do it better than anybody else.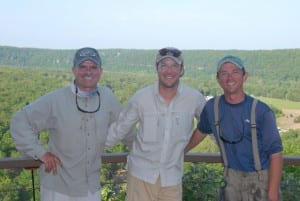 Our business exists to help you catch fish! If you use one of Arkansas' Best Professional Staff of Trout Fishing Guides on the White River or Norfork River and you don't catch fish, you don't pay. We have Never given a refund.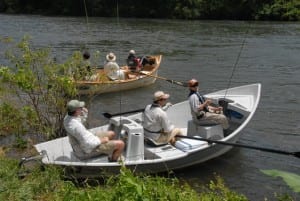 Our independent guides know both fly fishing and spinfishing techniques that many others don't. They know the river inside and out. They fish high water low water and in between. They are specialists. Guiding is all they do! They are good with beginners and their expertise is appreciated by even the most well travelled advanced fly anglers. Their vocation is also their avocation, which is why on their days off, you will usually find them honing their craft on the river, or perhaps tying some of their" Famous on the White" guide flies. A couple have tied commercially and are expert tyers in every since of the word. On top of being great guides, they are also great people. They know about service and safety, and they know how to make you feel comfortable regardless of your skill level. They never fish when guiding. They will "teach" you a technique by demonstrating. This is all! They are not your competitors like so many of the guides on the river. They all use top notch gear and are on leading manufacturers' sponsorship guide programs. This means you get to fish with the latest and greatest gear!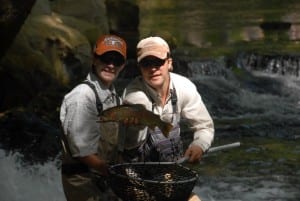 There are many guides on the White River, and almost as many "guide services." Most just own a boat and have made no other investment,(other than a small website) many don't carry insurance on themselves, and even fewer carry insurance on "Their" staff of guides. It is always prudent to ask these questions when booking a guide anywhere. Here at The White River Inn, we have built the premier lodge on the White River. You can always expect the best of the best. For the most part, you will get exactly what you pay for on the White River. Rarely is the sweet feeling of saving a few dollars in the beginning worth the bitter taste left when everything does not go as well as planned or promised.
If we can be of service in any way please let us know. From simply booking a great guide for you, to providing a world class experience at the White Rivers' Premier lodge. We are here to answer any questions or help you to plan your next trip. 870-430-2233
Kind Regards,
Moose Watson